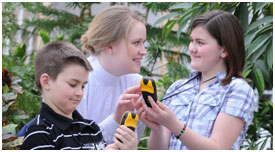 (1 hour) – Grades 4 - 12

Following an introduction to GPS (Global Positioning System) receivers and geocaching, teams will explore the 8.5 acres of the Edwardian Gardens. Clues and map in hand, teams will navigate the property, solving puzzles and learning about the significance of the historical landmarks and features in the gardens.
To book any of our regularly offered programs please go to our Active Learning Programs page.
To book our Christmas programs please go to our Seasonal Programs page.