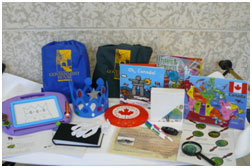 Discovery Backpacks are based on availability and can be pick up at the Welcome Desk.
Explore the Crown Discovery Backpack
Suitable for children aged 4 – 7, enjoy this fun backpack as you tour through the Amédée Forget Museum. Search for crowns while on tour and even make one of your own to take home!
Celebrate Canada Discovery Backpack
This entertaining backpack is suitable for children aged 7 – 11 and can be enjoyed as you explore the Edwardian Gardens!