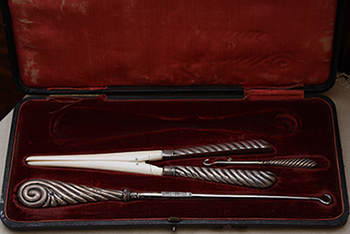 Chose by
Emma Morris, former Visitor Experience Host, Government House
Chosen because
"I chose the corset and boot tools because it reminds me of the time and attention women (and I guess men did too) put into their appearance", Morris said. "They would never be seen without their full ensemble and I think it is important to understanding Victorian ideas and even more interesting when compared to today! Also the fact that women who wore all of this had to have specific tools and required the help of a maid (or perhaps sister, etc. if not raised with these circumstances) is crazy to me!"
History of this artifact
It was acquired June 23, 1981, from The Lion Mask Antiques in Calgary. Assessed to be of 1880s to 1890s origin, ivory and silver composition. Missing artifact is a silver shoe horn.