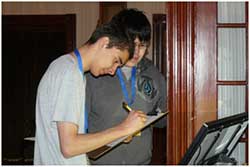 Government House's scavenger hunts are designed to guide visitors through the different areas of Government House by highlighting a variety of key facts and historical points.
Ask a Visitor Experience Host at the Welcome Desk for the different options.
To help us better accommodate groups of 10 or more, please fill out the form found on the Tours & Programs page to book your trip to Government House.