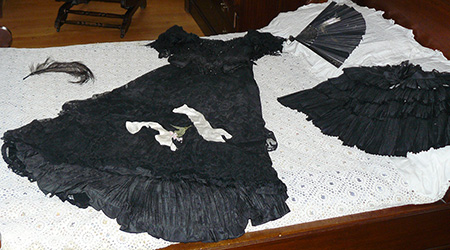 Chosen by
Sylvie, former Visitor Experience Host, Government House
Chosen because
"I love the black jet beads on it. It was purchased in 1898 and it came from Montreal. So I imagine if I had been born 60 years earlier than I was, I could have been wearing that dress. This dress is an example of a classic two-piece bodice and skirt evening dress. The silk and lace bodice is ornate with its intricate bead work. The A-line skirt nips at the corseted waist and flows smoothly over the woman's hips, and lace feminine flounces trim the skirt all the way down to the hem."
Queen Victoria ruled England from 1837-1901. Before this time, men were the focus of fashion; but, with a queen in power, women surged to the forefront. The role of a wife became to show off her husband's status and wealth to the public.
Beautifully embellished ornate blouses took on a new importance and were worn by every class. Home dressmakers did their best to emulate the fussy couture blouses and they used fine pin tucks, fine embroidery, appliqué, insertions of lace, faggoting, pleats and lace trim to get good effects.
During this time, it was still usual to make dresses in two pieces.
A top bodice was usually mounted onto a lightly boned under-bodice lining which fastened very snugly with hooks and eyes. It acted as a stay garment giving extra stability, contour and directional shape beneath the delicate top fabric.
Women's wear in the last decade of the Victorian Era (1890s) was characterized by high collars, held in place by collar stays, and stiff steel boning in long line bodices. By this time, there were neither crinolines nor bustles. Women opted for the tiny wasp waist instead.