The feature exhibit offers visitors an annually changing theme. The exhibit has highlighted past Lieutenant Governors, royal visits and even certain time periods of Government House. You can also find travelling exhibits featured here. It is located right across from the F.W. Johnson Entrance. There will be a new exhibit coming in 2023. Check back to see when this exhibit debuts.
Current Exhibits!
Treaties and the Crown
July 1, 2023 - September 2023
On the occasion of the coronation of His Majesty King Charles III, we recognize the historic relationship between the Crown and Indigenous Peoples through the Treaties.
We are grateful to the Office of the Treaty Commissioner (OTC) of Saskatchewan for their framed copy of the Treaty 6 Adhesion which shows the signatories. The Montreal Lake First Nation also generously approved the loan of their 1892 Treaty 6 Adhesion document. These documents are the feature artifacts of this exhibit. The new Treaty Timeline display, developed by the OTC, features prominently in the exhibit space and provides a wealth of information.
Thanks also to the Office of the Lieutenant Governor and the University of Saskatchewan University Archives and Special Collections for their collaboration.
Rehab - Rest - Recreation
Government House Convalescent Period 1945-1957
This exhibit explores a less talked about period of Government House. The building, grounds and residents of this time were all very different from the previous 54 years.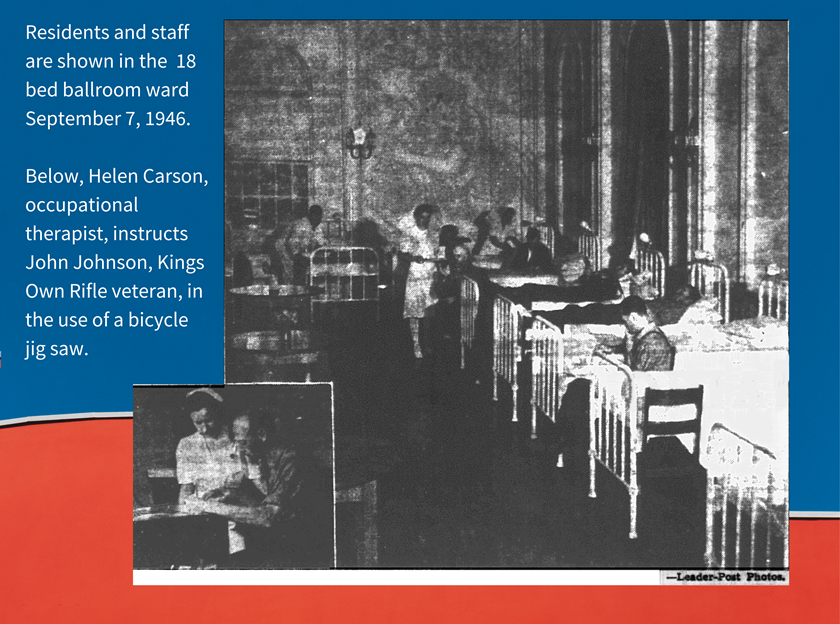 Government House opened as a convalescent home on August 12, 1946. Healing, therapy, and sports were the three pillars of rehabilitation. The facility was available to veterans with pensions or who had seen wartime service, and who did not need active medical treatment.
This was a time of great change for Government House. The Department of Veterans Affairs (DVA) established rehabilitation centres across the country. By June 1957, sixty-five veterans between the ages of 50 and 90 were living at Government House.