The feature exhibit offers visitors an annually changing theme. The exhibit has highlighted past Lieutenant Governors, royal visits and even certain time periods of Government House. You can also find travelling exhibits featured here. It is located right across from the F.W. Johnson Entrance. There will be a new exhibit coming in 2020. Check back to see when this exhibit debuts.
Current Exhibits!
Rehab - Rest - Recreation
Government House Convalescent Period 1945-1957
Held over, now in a different location in the building.
This exhibit explores a less talked about period of Government House. The building, grounds and residents of this time were all very different from the previous 54 years.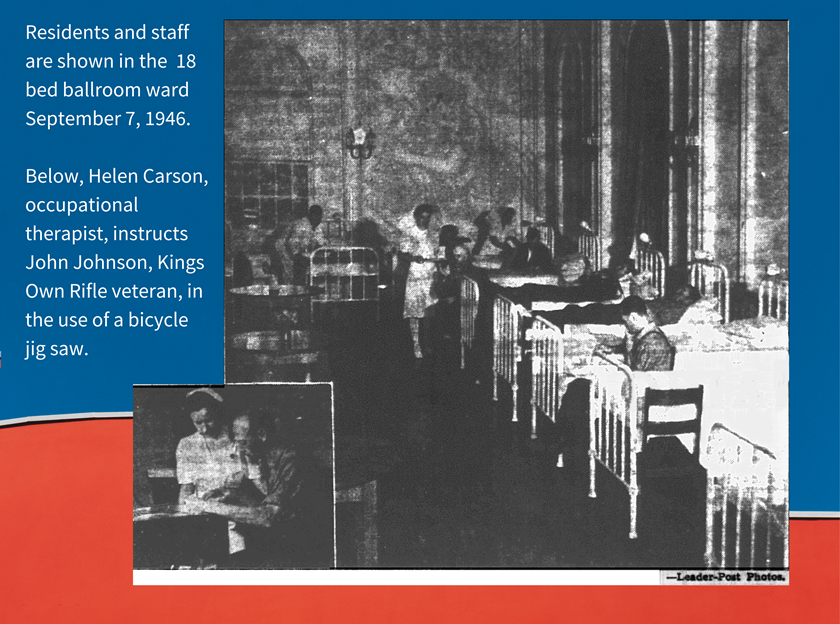 Government House opened as a convalescent home on August 12, 1946. Healing, therapy, and sports were the three pillars of rehabilitation. The facility was available to veterans with pensions or who had seen wartime service, and who did not need active medical treatment.
This was a time of great change for Government House. The Department of Veterans Affairs (DVA) established rehabilitation centres across the country. By June 1957, sixty-five veterans between the ages of 50 and 90 were living at Government House.
The Palace on the Prairies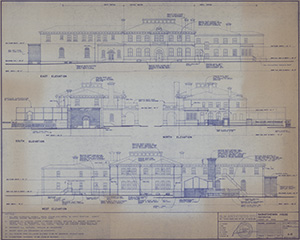 In celebration of the Government House 125th anniversary, the Provincial Archives of Saskatchewan developed this special exhibit using their diverse collection of records. This exhibit explores the major developmental periods of Government House over the past 125 years.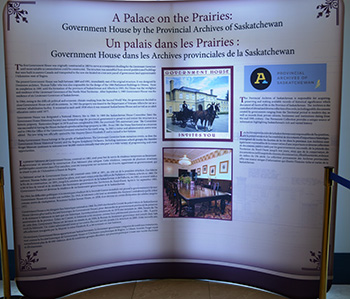 Always an invaluable source, the Archives is responsible for acquiring, preserving and making available records of historical significance which document all facets of life in the Province of Saskatchewan.

Recent Feature Exhibit
Stitching Stories
September 5, 2020 - February 28, 2021
In these unprecedented times there is solace in tradition and creativity. The Embroiderers' Association of Canada preserves traditional techniques and promotes new challenges in the art of embroidery.
The Embroiderer's Association of Canada is now almost 50 years old. They have almost 40 chapters and more than 1,500 members from all across Canada and beyond. They have grown into a vital and exciting organization. They also maintain a Heritage Collection with over 1000 items. The collection began in 1991 with the donation of textiles from the Leonida Leatherdale estate. One of the oldest pieces in the collection is a sampler from 1758. In 2003, chapter members the Regina Stitchery Guild (RSG) partnered with Government House as a place to house and care for this collection.
Embroidery in various forms has existed as long as man has been able to produce fabric. Come and explore the Heritage Collection items and their stories featured in this exhibit.