Feature Exhibits in Main Floor Exhibit Room October 1, 2019 to November 10, 2019
Leah Marie Dorion: Being One with the Earth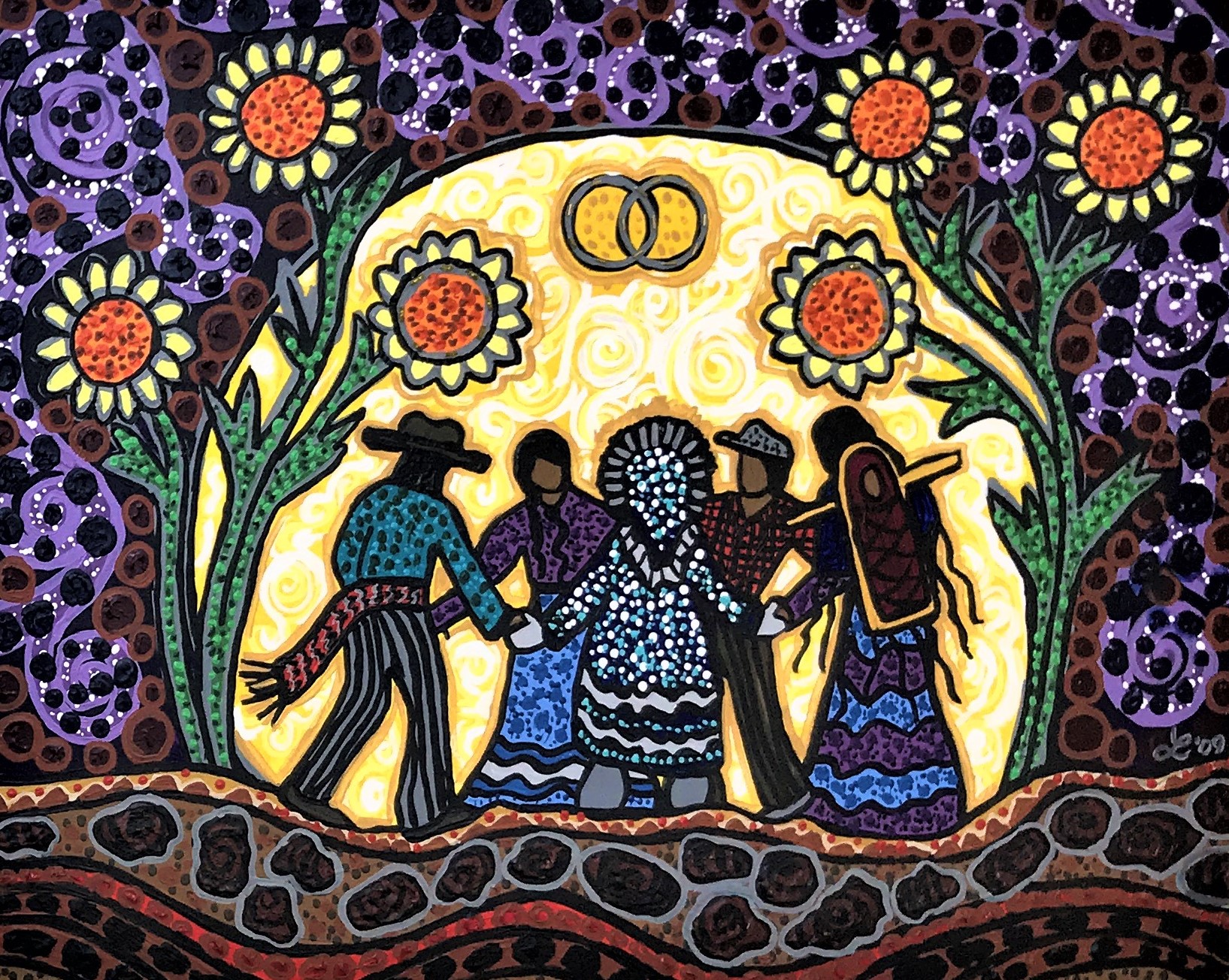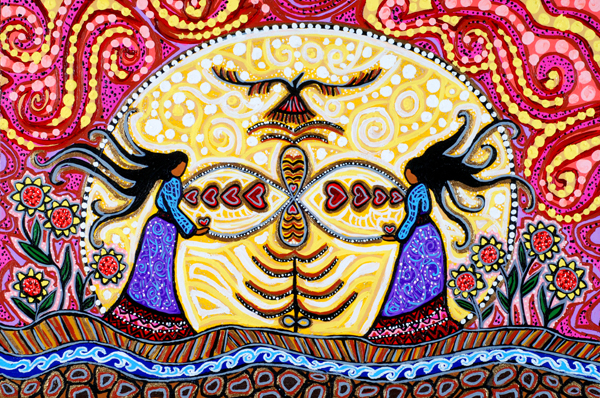 The work of Leah Marie Dorion is firmly rooted in traditional Métis teachings of her Grandmothers. As an educator, researcher and writer, Leah includes teachings from other nations and territories into her paintings and embraces these understandings, because we are all on Mother Earth, together. Strength, balance, harmony, love and resilience are common themes throughout her work.
Connectedness to the land is a way of life for Leah. She includes this in her state of daily consciousness and has committed her life's work to honouring Mother Earth and teaching others to have a greater understanding.
This show has been on tour around the province since March 2016 through the Organization of Saskatchewan Arts Council's Art on the Move program.
Complementary Display
We also have a display showing some of the "compensation" attempts to the Métis people. Learn the story of the Hudson Bay Company Promissory Notes. The £1 note on display with it's source letter is one of only a handful of Promissory notes still in existence. (Thank you to the Regina Coin Club for lending the £1 note and Promissory note.)
You can also learn about the federal government devised Scrip programs through The Manitoba Act (1870) and The Dominion Lands Act (1872). The government issued two types of scrip to the Métis people following the Red River Resistance. The display shows a small sampling of documents/forms that were required to make a claim for Scrip.
We are happy to present these displays and art as part of our month long appreciation of the Métis culture at Government House and we're grateful to the Government of Canada for funding the exhibit.

Feature Queen Elizabeth II Art Gallery Exhibit
Bridging
Presented by Artists' Workshop
October 14, 2019 to January 12, 2020
Bridging is a way to diminish our differences and enhance our connections. Sharing art from the heart helps span life's gaps - in time, space, and understanding. As we build bridges, we shift perspectives, strengthen relationships, and shape community.
The Artists' Workshop is a group of visual artists out of Saskatoon juried for membership to ensure the group's artistic quality as well as diversity of style and media. Group members focus on painting and drawing with forays into collage, and mixed media.

Guided Tours are Available
We are able to offer First-person Interpretive (FPI) Tours on Saturdays:
1:00 pm - FPI Tour (English)
2:00 pm - FPI Tour (French)
As well we also offer the Conservator 101 Program at 3:00 pm on Saturdays. Find out what it is like to work with museum pieces and get to put on white gloves and touch and work with real artifacts.
For the rest of the time we do have Visitor Experience Hosts that are happy to offer a guided tour or you can do a self-guided tour of the Amédée Forget Museum.

As well, you can do self guided tours of the J.E.N. Wiebe Interpretive Centre or the QEII Art Gallery anytime during our regular hours.
You are also welcome to play in our Once Upon a Time room , Geocache in the Edwardian Gardens or simply read your favourite book in the Sylvia Fedoruk Conservatory. For more information about events and activities explore the event, program, and exhibit areas of our website.