Located along the Queen Elizabeth II Wing – Upper Hall, this space provides opportunities for local and provincial artisans to prominently display their works. This exhibit—which has featured everything from quilting and photography to sculptures— changes regularly.
Now Showing!
Stones of Moffat
Presented by: Kay Parley
January 14, 2019 - March 24, 2019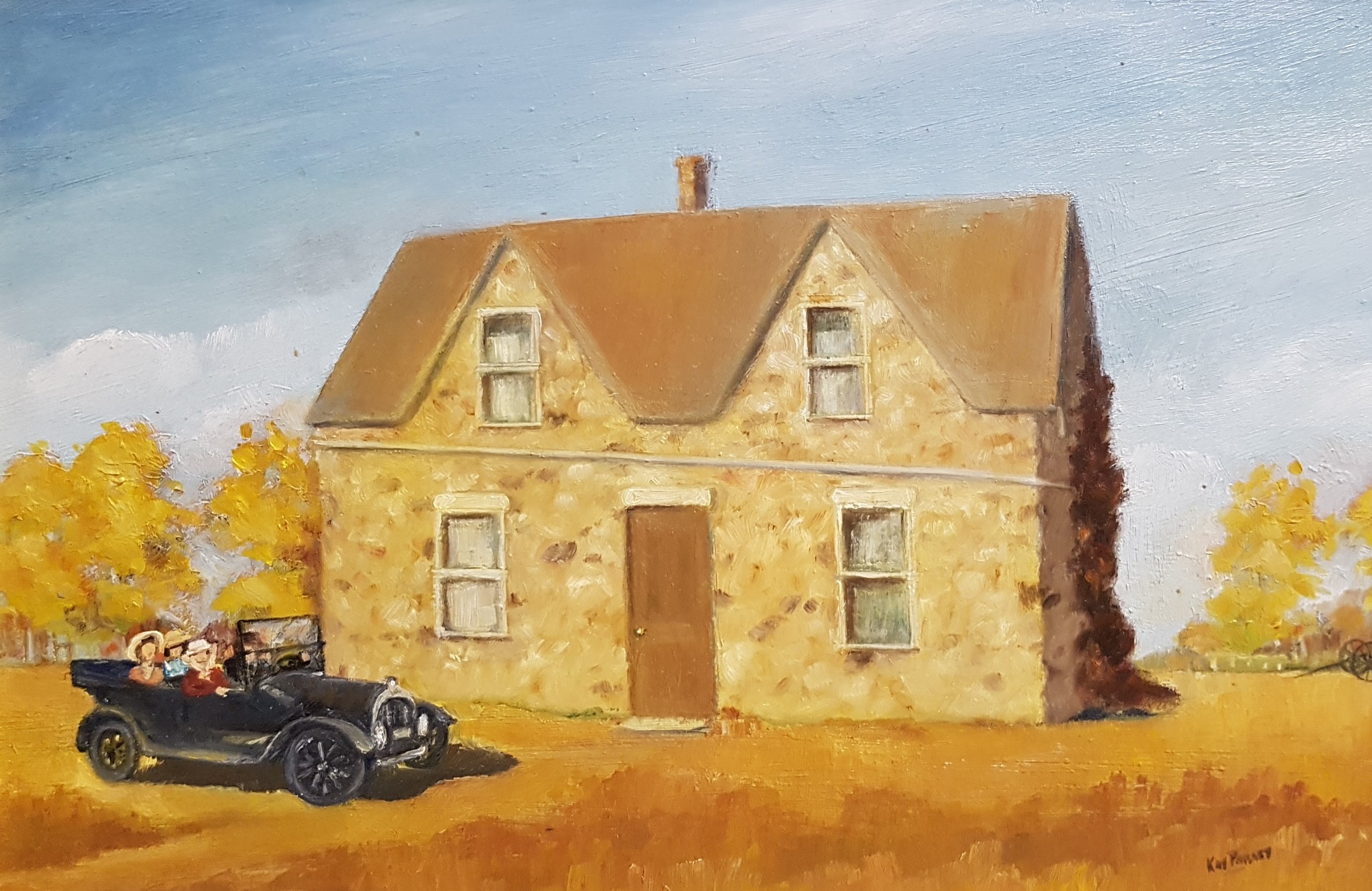 Kay Parley grew up in the Scottish community of Moffat, south of Wolseley. Although it was never formally on any map as a bonafide town or village, it was a close-knit community of folks who settled there from Scotland. They followed their traditions, built houses of stone, and relished in their Scottish heritage. Kay's love of these "stately" homes and the community sparked her paintings of these fieldstone homes and formed the basis for her sketches of buildings throughout the province. Sketches of the Moffat stones were used to illustrate her history of Moffat, They Cast a Long Shadow.
Now in her nineties and living in Regina, Parley looks back at her varied life. As well as being an artist she was a teacher, secretary, registered psychiatric nurse and she has devoted much time and study to writing and is an author and journalist.
In her own modest words; "As an artist I guess I was a dabbler. I had no specific expertise and I seldom felt really satisfied with any of my paintings, though I was awfully pleased with a few I did from old snapshots, especially "Getting Ready for Town." I think much of my work has more value as history than as art. For instance, I did a watercolour based on an old snapshot of my mother and my aunt on snowshoes which turned out to be one of the best paintings I ever did. I haven't done much since. I've been too busy writing."
From the Prairies to the Trenches - Part V: Amiens, Armistice and Aftermath January 1918 to June 1918
Part 5 of PAS First World War video series
This video, the fifth in a five-part series on the First World War, recalls the events of 1918, as seen by both those serving in war-torn Europe and on the home front here in Saskatchewan. The video features a rich selection of documentary material held by the Provincial Archives of Saskatchewan and its partners which relate to Saskatchewan's involvement in the First World War.
The video, along with the previous parts can be viewed online on the Provincial Archives of Saskatchewan's YouTube channel. Also, be sure to visit their website for more information regarding this video series.