Welcome back!
Government House is excited to, once again, offer indoor and outdoor tours of this beautiful National Historic Site. Learn about the history, heritage and ecology of Government House and the Edwardian Gardens.
Guided indoor tours will begin hourly at the top of the hour during our regular business hours. We recommend all tours book a time using the form and options below.
The Government of Saskatchewan has stated that it is safe to remove your mask and masks are no longer mandated. Government House does welcome masks and will continue to regularly wipe and clean surfaces. Individuals are reminded to follow proper hand hygiene and coughing/sneezing etiquette. Individuals can also choose to take personal steps to practice extra COVID related measures.
Please see visit our Tours & Programs page to book.
---
Located along the Queen Elizabeth II Wing – Upper Hall, this space provides opportunities for local and provincial artisans to prominently display their works. This gallery has featured everything from quilting and photography to sculptures — exhibits change regularly.
Now Showing - Exhibit Extended to August 9!
Though restrictions are still in place at Government House a virtual tour is now available.
Many Saskatchewan people know of La Ronge as a popular destination for wilderness experiences and outdoor activities, yet their community and environs remain relatively unknown.
Nineteen La Ronge area artists are excited to share a love of things that make La Ronge special. They invite us to get to know La Ronge a little better through this exhibit.
Passion for the Crown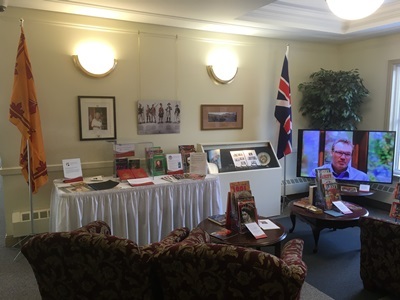 A shared link to the Crown encourages us to share knowledge and passion for the Crown. Government House is pleased to partner with the Monarchist League of Canada– South Saskatchewan Branch and the United Empire Loyalists' Association of Canada Saskatchewan Branch.
The South Saskatchewan Branch of the Monarchist League of Canada is a group of your friends and neighbours from across the province, united in their interest in and loyalty towards Canada's constitutional monarchy. As an inclusive and outward-looking organization, the League is strengthened by the diverse backgrounds and experiences of its members. The Monarchist League of Canada promotes loyalty to and understanding of the Canadian Crown. The South Saskatchewan Branch was established in June of 1970.
The United Empire Loyalists' Association of Canada (UELAC) Saskatchewan Branch consists of persons who have proven their Loyalist ancestry, those who are working on their proof, or those who support our goals and believe in the ideals of the UELAC. The United Empire Loyalists were those who had settled in the Thirteen Colonies at the outbreak of the American Revolution (1775-1783), who remained loyal to and took up the Royal Standard, and who settled in what is now Canada at the end of the war. Lord Dorchester's Proclamation of 1789 accords all descendants of Loyalists to identify with 'U.E.' after their names.
---
Recently Shown
January 29, 2021 to
March 28, 2021
Presented by Anne Brochu Lambert
"This exhibition brings together a selection of 18 paintings created in encaustic and a variety of mixed materials over the last 15 years. This is the result of my creative research on the prairies' landscape motif...
...The creative journey is very much like a meander (méandre), being both challenging and rewarding. The narrative thread and emotional response toward these works belong to the viewer's own experiences." Anne Brochu Lambert
Veiw the show and Anne's comments in our Video Gallery.
See more of Anne's work HERE.