We have a new menu for 2019!
Open for the season May 20th to September 2, 2019.
Now Open - The Vice-Regal Coffee Bar
Our coffee is a sustainable, aromatic, dark roast Paradise Mountain Organic Coffee.
Our Tea is from Yeo Tea-Organic Tea. Just the smell of this fantastic tea will make you a tea drinker!!
We also have scones and muffins made from simple ingredients (no preservatives) which are created and baked here in Regina. Our supplier for all these delicious choices is Cafe Royale found in Hotel Saskatchewan.
Stop in and one of our Visitor Experience Hosts will be happy to assist you in your selection! Perhaps a cream tea for two!!
For your convenience, we are able to process debit and credit cards at our seasonal food service.
The Menu
| | |
| --- | --- |
| Beverages | |
| Coffee | $2.50 |
| Tea (Earl Grey, English Breakfast, Peppermint, White Ginger Peach) | $2.50 |
| Juice (Apple or Orange) | $2.25 |
| Perrier (250 ml can) | $2.25 |
| Fiji Water (500 ml bottle) | $2.50 |
| Baked Goods | |
| Scone (comes with butter and jam) | $3.25 |
| Muffin (rotation of Lemon-Raspberry, Saskatoon Berry, Morning Glory and Blueberry; comes with butter) | $3.25 |
| Extras | |
| Devonshire Cream | $1.25 |
| SPECIAL | |
| Cream Tea for Two (Includes: two teas/coffees with two scones/muffins with butter & jam) | $10.00 |
Starting June 18th
We will also be offering four new selections for picnics. See the selections below:
Royale Ploughman
$14.00/person

- 30g Sharp Cheddar Cheese
- Rosemary Flat Bread
- Snap Peas
- Organic Carrot Sticks
- 2 sticks Quill Creek Bison Pepperoni
- 30g Grilled Chicken

Victoria's Vegetables
$14.00/person

- Cucumbers
- Carrots
- Snap Peas
- Cherry Tomatoes
- Hummus-Plain
- Gala Apple slices
- 30g Sharp Cheddar Cheese
- GF Rice Cracker

King Edward
$14.00/person

- 20g Brie
- 20g Sharp Cheddar
- Grainy Dijon
- 1 stick Quill Creek Sweet Bison Pepperoni
- 10g Maple/Honey Roasted Ham
- Herb Artisan Crackers
- Rosemary Flat Bread
- Small brunch grapes
- Snap Peas
- Organic Carrots

The Parisian
$14.00/person

- 40g Brie
- Herb Artisan Cracker
- Small Bunch Grapes
- Carrots
- Cucumbers
- 15g Roasted Almonds
- 25g Maple/Honey Roasted Ham
- Grainy Dijon

You are welcome to enjoy your snacks as a picnic in the Edwardian Gardens.
Purchase as a Prairie Picnic Basket Experience for Two for $30.00, and we will include use of a Saskatchewan Tartan blanket, two (2) selections from the above four (4) choices and two beverages of your choice from our menu.
If you are in/near Government House and decide you would like to purchase a picnic basket, please come to the Vice Regal Coffee Bar and you can choose from the product we have on hand.
If you wish to guarantee your food selection Picnic Baskets must be ordered a week in advanced, please use order form below.
You are free to enjoy your purchase outside in the gardens or on the deck off the conservatory. If there is inclement weather, you are welcome to take your food/drinks into the Conservatory or sit at one of our tables near the Vice Regal Coffee Bar.
No drinks or food is allowed in the museum but you can pre-order and pay for your selections before your tour and have them ready for you when you've completed your tour.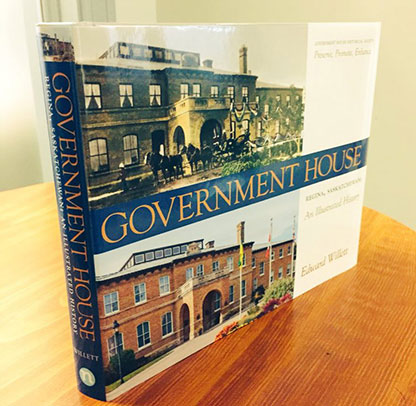 If you are looking for something to read, you can also purchase some great reading material.
We have two books by author Judith Silverthorne; Ghosts of Government House and Ghost in the Garden.
Additionally, Government House: An Illustrated History, created by the Government House Historical Society, is a wonderful coffee table book for any home. These are available year round.
Order Form for Picnic Basket Experience
Available starting June 18th.